Biologie Sans Frontières (BSF)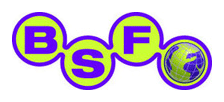 Founded in 1992, Biologie Sans Frontières (biology without borders) aims to enhance the capabilities of biomedical laboratories in developing countries in order to improve public health.
This NGO's mission is to:
Create, rehabilitate and assist medical biology laboratories in economically underprivileged regions of the world;

Support public health projects that include a "medical biology" aspect;

Train medical and technical staff in performing and interpreting tests
When approached by sanitary authorities or partners, BSF conducts field visits to assess the operation and equipment of laboratories needing support.
Depending on what is needed, BSF rehabilitates or sets up medical test laboratories and equips them with refurbished basic equipment.
Biologists from the association are sent on site for two or three weeks to train laboratory staff on using the equipment supplied, laboratory management techniques and quality control procedures.
BSF is an active participant in the GLOBE portal. It wrote the "microbiology database" training module in the diagnostic centre section and is responsible for the editorial content of the "basic laboratory techniques and procedures" sheets.